by Gladys Diaz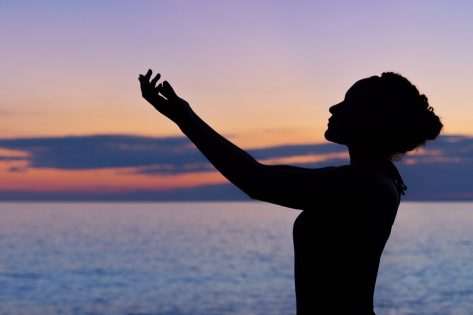 Today, for those of us who are Christians, is Good Friday.
As a young girl, I always wondered why it was called "Good" Friday, when it marked such a sad day.  I honestly could not see how remembering a brutal death of someone we loved and followed was supposed to be something "good."
It wasn't until I got older that I realized that, without the death of Jesus, there would not and could not have been a resurrection.
Resurrection can only come after death.
Much like healing can only come after injury or illness…
… rebuilding can only come after destruction…
… renewed hope can only come after a period of doubt or hopelessness.
And, many times, true love comes after heartache.
I know that was the truth for me, for Michelle, and for so many of the women who we have helped around the world to find the love they desire and deserve.
It's also what's true if you want to create a true breakthrough and transformation in your love life.
See, there is a letting go — a "dying," of sorts — that has to happen if you are going to truly open your heart to a new and extraordinary kind of love.
You have to be willing to let go of the past, of your fears and your heartache.  
You need to let go of your limiting beliefs and doubts, your judgments and expectations in order to create something completely new and different from what you have had and experienced in the past.
So, here's my question to you:
What are you willing to let go of, once and for all, so that you can begin to welcome in the love that is waiting for you on the other side of your past?
What fear, doubt, belief or pattern are you ready to release so that new and extraordinary love can find its way to you?
What resentment, regret, or disempowering story are you finally willing to let go of so that you can create a new story — one that has you living the life and love your heart desires?
I know that letting go can feel scary, but it's not quite so frightening when you don't have to figure out how to do it on your own.  Remember, we're here for you!
Remember: The past has no power over you, except for the power you grant it in the present.  Sometimes, letting go of just one fear or limiting belief can open the floodgates to letting new love in!
So let us know, what is one thing you are committed of letting go of so that you can have the love and happiness you desire and deserve?